The enrollment for our next school year is open!
As you know we are very happy to have our children back at Casa dei Bambini. Once again we would like to thank you for your trust in our school.
Our school has reopened after the pandemic and is operating successfully. Casa dei Bambini is a leading school in the area and is widely recognized on the Polish educational market.
The enrollment for our next school year is open and we would like to inform you that siblings of our current families will receive priority. Additionally, If you refer any of your friends to our school, they will also receive the priority to enrollment as well.
Therefore, we kindly ask you to forward the application documents to your friends who might be interested in Montessori education at Toddler (age: 1-2,5) and preschool level Casa (age: 2, 5- 5).
We would like to kindly invite you to make an individual appointment in one of our campuses. There is also a possibility to make a virtual meeting using Zoom.
If you would like to obtain detailed information concerning the Montessori method and the activities of our school, please visit us upon prior arrangement by telephone:
Kinga Chmiel
T +48 692 099 134 or by mail: office@warsawmontessori.edu.pl.
Maria Montessori said "The education of even a small child, therefore, does not aim at preparing him for school, but for life", that is why we invite all parents to join Warsaw Montessori Family to experience Montessori pedagogy which is education for life.

Warsaw Montessori School is a part of the family of educational institutions called the Warsaw Montessori Family.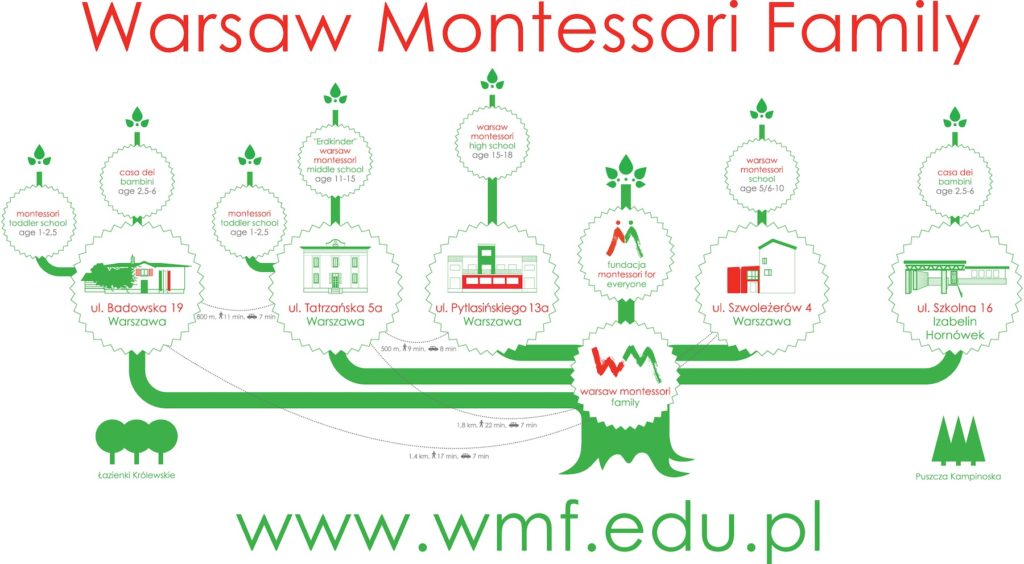 Check more photos of Casa dei Bambini Warsaw Montessori in our Gallery .